Aluminum Dip Brazing at
Coleman Microwave Company

Coleman Microwave Company (CMC) began ALUMINUM DIP BRAZING operations in 1985. We feature a large 24" x 40" x 30" deep Upton dip braze tank and Trent pre-heat treatment ovens.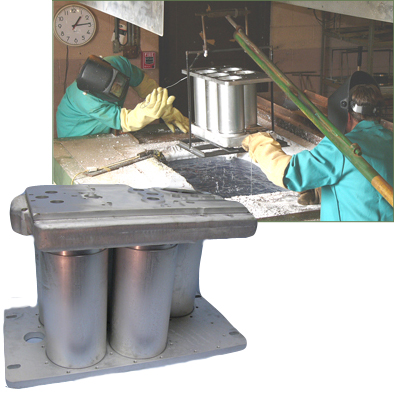 Work processed in our facility includes a large variety of items ranging from small intricate waveguide assemblies to large complex chassis.
CMC is an industry approved source for aluminum dip brazing, welding, heat treating, and chemical film coating. Aluminum dip brazing is the preferred means of fabricating aluminum assemblies, offering superior joints as strong as the base metal. Dip brazing utilizes uniform heating, resulting in little or no physical distortion. Depending on fixturing and method of fabrication, complex assemblies can achieve tolerances as low as +/- .005, though typical tolerances are +/-.010.
The Coleman Quality System has been MIL-I-45208 approved since 1973.